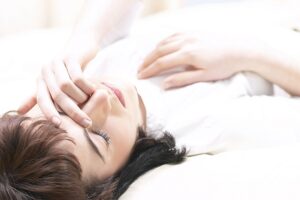 Snoring is often considered a harmless, if frustrating habit; in fact, many people don't even realize they do it until a sleepy partner shakes them awake in the middle of the night. However, did you know that snoring can be an indicator of a much more dangerous condition? If you suffer from chronic snoring, daytime exhaustion, or constant morning headaches, you may be experiencing sleep apnea, which can negatively affect your overall health if left untreated. Thankfully, your local dentist in Jacksonville Beach doesn't just handle matters of the teeth and gums – he can also provide an effective solution for your sleep apnea and help you sleep better and smile brighter!
What exactly is sleep apnea?
Snoring occurs when a patient's air pathway is partially blocked by the muscles in the throat; sleep apnea happens when the pathway is blocked to the point that it's nearly impossible to breathe. When this happens, the patient's brain sends a signal urging them to wake up and breathe, causing them to be temporarily roused from deep sleep as they clear their airway. This sequence of events only lasts seconds, but it can happen countless times a night, keeping them from being able to achieve deep, lasting rest, impairing productivity during daylight hours, and even leading to an increased risk of heart attack and stroke.
How can a dentist help me?
First, your local dentist will recommend that you visit a sleep specialist in order to confirm if you are suffering from this condition. Then, they can create an oral appliance that's custom-made for your mouth. You simply wear it at night when asleep – the device will hold your jaw forward and keep your airway from closing, effectively keeping you from experiencing any symptoms of sleep apnea and allowing you to finally get a good night's rest.
Your local dentist in Jacksonville Beach has lots of experience in helping curb the negative effects of sleep apnea, and he'll be happy to pass his knowledge onto you too! Our practice also serves the areas of Atlantic Beach, Neptune Beach, St. Augustine, Ponte Vedra, and beyond.